Biography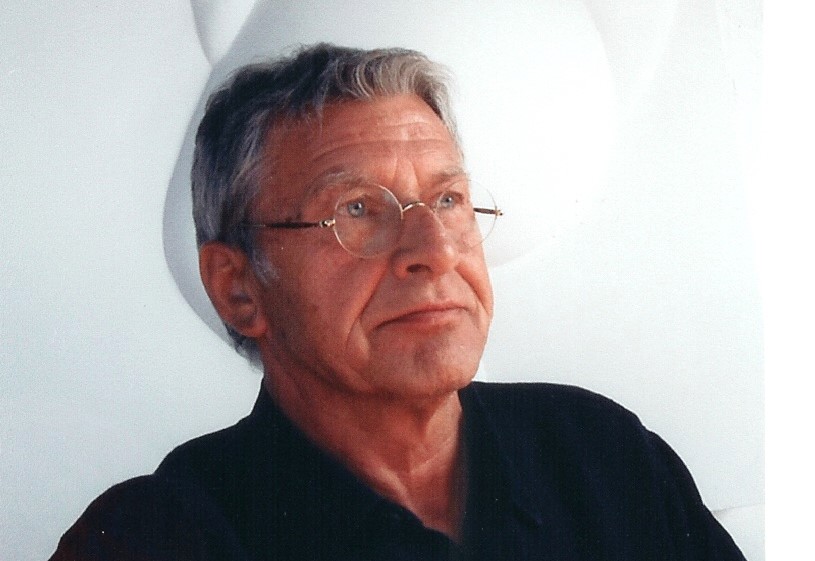 (C) Arno Pertl


1946
Born in Säckingen, grew up in Spain, France and Stuttgart
1958 
Already a student with special permission at the Stuttgart Art Academy under Professor Gollwitzer
1962 
Training as painter and varnisher, then went self-employed
1967 
first sculpture
1970 
first free painting attempts
1976-80
Blocherer School of Applied Arts in Munich
1978 
Friendship with the Russian sculptor Georg Kruk; met Rudolf Hausner; Vienna; sculpture versions of work by Ernst Fuchs, Salvador Dali and
Arno Breker
1980-82
Creative director of a Munich advertising agency
1982 
Happening at the ISPO for Uniroyal; gym shoe relief;
seit 1982
as a freelance painter and sculptor; first important scultures created in Spain. Cycle of life affirmation followed by cycle of socially critical sculptures; "Lifeline" created, a 10-metre- long tactile work
1986 
sculptural wall decoration for McKinsey, Munich
1987 
Versions of the models "Dancer" and "Woman Jumping" as large sculptures;
1988 
first abstract sculptures appear; search for new work materials
1989 
Television report on "Christian Peschke's Fat Ladies" on MONA LISA, ZDF; created the "Fuchs" culture award of the firm Fjällärven; created the Bavarian Skiing Award ("in Form") for the Bavarian Skiing Association, later awarded to Willi Bogner, Walter Demel and Fritz Wagnerberger among others
1990 
Transformed "Helplessness" into a large-format sculpture
1991
numerous large sculptures appear between 1991 and 1995, as well as paintings and goldsmith work.
1996
Exhibition in Monte Carlo under the auspices of "Christine Esswein"
1997-2002
numerous exhibitions in Germany, Austria and Italy.
1999
more exhibitions, including one at the "Schloss Seeheim" academy in Constance
2000-02
lecturer at the "Akademie Vulkaneifel" in Steffeln
2001
Wall relief created for the Hotel Mirabell in Olang, South yol
2001-2002
Creation of large-format sculptures "QUO VADIS", "ANGER", "DANCE AROUND ONE'S OWN NAVEL" and "BULL" (POWER TO PEACE".
2003
Creation of sculpture "Dance of the Stars" onthe occasion of the 30th anniversary of the Club Allemand International de Monaco for S.A.S. Le Prince Souverain Rainier III of Monaco
2004
Intensive work on two large-format sculptures
2005
Creation of the sculpture "Woman Dancer" and official handover to his Highness Prince Albert II.
2006
Creation of a sculpture for UEFA in occasion of the World Cup chamionsships.
2006
Collective exhibition in the Museum in Bruneck – South Tyrol, Italy on the occasion of the publication of the art-book "Artisti & Atelier" by Fulvio Vicentini
2007
Creation of the Video " Die Kunst Christian Peschkes" by Fulvio Vicentini
2010
Creation of the sculpture "George Tabori" Berlin
2014
Exhibition " Museum für Moderne" Salzburg
2015
Opening Studio and Atelier " PESCHKE HOUSE " with permanent exhibition
2016
Creation of the sculpture "TÄNZERIN" for Alys Beach Foundation, USA
01.07.2017
Christian Peschke died.

Cyclical international exhibitions and installations.