Details

Written by

Super User

Category: Uncategorised
Hits: 253
Buy artwork

You can purchase the following works from us at Peschke House. You will also receive a certificate of authenticity. On request, we also offer framing.
If you are interested in a work, please send us an inquiry.


 
 
   size: 60 cm x 80 cm
   limited edition: 12
  
  

This email address is being protected from spambots. You need JavaScript enabled to view it.

 


   size: 60 cm x 80 cm
   limited edition: 12
  
  

This email address is being protected from spambots. You need JavaScript enabled to view it.

 



   size: 50 cm x 70 cm
   on canvas
   limited edition: 12
  
   This email address is being protected from spambots. You need JavaScript enabled to view it.

 


   size: 50 cm x 70 cm
   on canvas
   limited edition: 12
  
  

This email address is being protected from spambots. You need JavaScript enabled to view it.

 


   size: 60 cm x 80 cm
   on canvas
   limited edition: 12
  
  

This email address is being protected from spambots. You need JavaScript enabled to view it.

 


   size: 60 cm x 80 cm
   on canvas
   limited edition: 12
  
  

This email address is being protected from spambots. You need JavaScript enabled to view it.

 


   size: 100 cm x 80 cm
   on woodplate
   limited edition: 12
  
  

This email address is being protected from spambots. You need JavaScript enabled to view it.

 


   size: 70 cm x 80 cm
   on woodplate
   limited edition: 12
  
  

This email address is being protected from spambots. You need JavaScript enabled to view it.

 


   size: 140 cm x 175 cm
   on canvas
   limited edition: 1
  
  

This email address is being protected from spambots. You need JavaScript enabled to view it.

 


   Kleine Freue (Little Joy)
   height: 20 cm
   cast marble polished
   limited edition: 20
   price on request

  

This email address is being protected from spambots. You need JavaScript enabled to view it.

   Stier (Bull)
   height: 21 cm
   cast marble polished
   limited edition: 20
   price on request

  

This email address is being protected from spambots. You need JavaScript enabled to view it.



           

   Frauentorso (woman torso)
   height: 73 cm
   (without socket and rod)
   bronze, polished
   price on request

  

This email address is being protected from spambots. You need JavaScript enabled to view it.
Details

Written by

Super User

Category: Uncategorised
Hits: 997

Welcome!

This is the official website of Christian Peschke.
Details

Written by

Super User

Category: Uncategorised
Hits: 417
Book presentation
size 31 cm * 24,5 cm
296 pages with most features in color,
35 pages writings of 7 authors, showing a total of 210 pieces of work.
Published by : Europäische Kulturstiftung, Marco Edition Berlin-Paris-New York
ISBN 3 921754-45-3Buchdeckblatt Christian Peschke
book available in german – english
book in german - italian
by
Fulvio Vicentini
Price: 69,- € plus shipping and handling
The voluptuous figures and shapes of his sculptures as well as the vitality and language of color in his paintings exclaim the joy for life and the love for sensuousness. The extensive monography represents a grand selection of his most important oevres (works). This unique presentation is complemented by an interview about his life as well as comments by international renowned authors.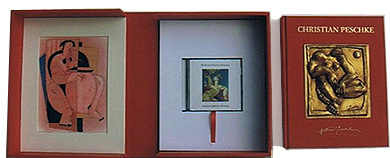 Moreover the artist will be publishing a special limited edition of 60 signed pieces bound in special limited editionred linen in its own casket filled with a movie about the artists` life and work plus an original pastel crayon painting, covered with gilded embossment. Price : 2.400,- € plus shipping and handling



Details

Written by

Super User

Category: Uncategorised
Hits: 487
Peschke House



The Peschke-House opened in 2015 and is solely dedicated to art. Architecture and art are in context here, they form a unit, stimulate each other and there fore it becomes a meeting place for artists and art lovers.

It is also a permanent exhibition space for Christian Peschke's Œuvre. There is also the possibility to purchase works of art from Christian Peschke. In addition cyclical exhibitions and events are organized.

The Peschke-House focuses on reunite art collectors in a unique place. You are invited to explore Christian Peschke's fascinating art first hand by visiting his studio.

Opening by appointment.
Tel. +49 (0)151 / 401 893 31
Email: This email address is being protected from spambots. You need JavaScript enabled to view it.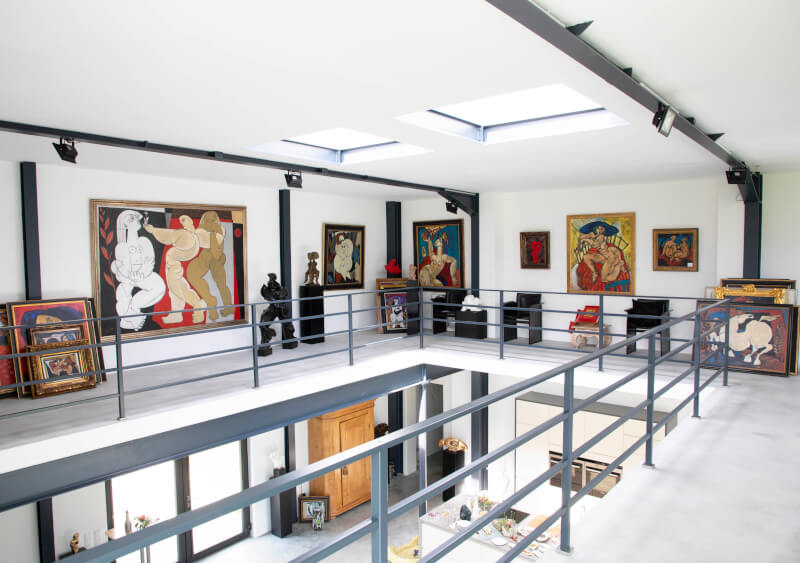 Details

Written by

Super User

Category: Uncategorised
Hits: 366
Tabori-Prize

Christian Peschke designed the "George Tabori Prize" for the Performing Arts Fund in Berlin.

The "George -Tabori" for performing arts was awarded for the first time on Monday, May 31, 2010 in the "Berliner Ensemble" in Berlin. After winning the tender for the design of the prize sculpture, it was a great challenge for the sculptor and painter Christian Peschke, who lived and worked in Bavaria and South Tyrol, to create a special symbol, he wanted to bring feelings to life with this sculpture, because that's what it's about it with dance and theater.
The fact that the award, which is dedicated to the great director and author "George Tabori", who died in 2007, spurred Christian Peschke on in his work.
Many celebrities from art, culture and politics were invited to the first presentation and presentation of this prize
The award winners, the "norton.commander.productions" group from Dresden and the "Duo Gintersdorfer-Klaßen" from Hamburg, were then celebrated together in this historic and wonderful theater with a large buffet.
For Christian Peschke, the design of this special prize is another milestone in his 30-year career and encourages him to continue his artistic work with all his heart and soul.
"The inner strength that dwells in us, but also the creativity that determines our active life, should be conveyed to the viewer in a way that is visible and palpable in dance expression" (quote from Christian Peschke)
The sculpture is meant to pay homage to art in the memory of George Tabori and to be a challenge for your work for performing artists.